A Little Bit
About Leixlip…
Location

Leixlip is situated in the north-east corner of Co. Kildare, on the confluence of the Liffey and the Rye rivers.The population is approx. 16,000,and it is one of the fastest-growing towns in Ireland. Our neighbouring towns and villages are: Maynooth 8 km, Celbridge 7 km, Dunboyne 8 km and Lucan 3 km. Dublin city centre is approximately 18 km to the east. The town is currently
twinned with Bressuire in France(1996), and Niles (near Chicago, Illinois) in the USA (1999).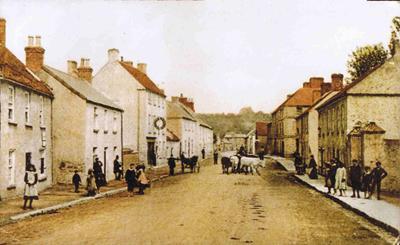 Brief History

A more detailed account of Leixlip's history and heritage is contained in the Leixlip Heritage Trail, the first panel of which is
40m to your right on the banks of the Liffey. (You can view the trail HERE.)
Evidence of Viking settlement has been found around Leixlip and the name they gave the town was lax hlaup, or 'salmon
leap'. This is a direct old Norse translation of the Irish, Léiman Bhradáin, meaning 'Leap of the Salmon' and is the basis for the
name we use today. It is known that Viking invaders settled here in the tenth century.Their stronghold was at Dublin and
their small 'empire' extended as far west as Leixlip – possibly due to the fact that the shallow draft of their long ships
allowed them to navigate this far up stream.
The powerful Anglo-Normans arrived in Ireland in 1169 under the leadership of Richard de Clare(Strongbow). In
1172,one of his followers, Adam de Hereford, built Leixlip Castle in a prominent position overlooking the village.
This important historical building has been added to over the years, and is one of the oldest buildings in the
country in continuous residence. It was attacked by Edward the Bruce in 1317and much damage was done to
the local church (St. Mary's) at that time.
The castle together with other buildings and locations in Leixlip feature in various episodes and well-
known dynasties in Irish history including the Earls of Kildare (the FitzGeralds), the Flight of the Earls,
Henry VIII, the Rebellion of 1641 and the Conolly family. During the 18th and 19th centuries, the town
was something of a tourist attraction, not least due to the vista of the Salmon Leap cataracts (prior to
the construction of a hydro-electric power station on the Liffey above the town in 1949, a series of
cataracts, or small waterfalls, provided a fascinating view of salmon migrating upstream), and the
discovery of thermal springs to the west of the town.The Royal Canal and the western railway
– products of the industrial revolution – both pass through Leixlip. These days, canals are part
of the leisure industry and the Royal Canal towpath is being incorporated into a 'greenway'.
Today, Leixlip is a busy, thriving town. It still maintains much of its village character, whilst
business opportunities and recreational and sporting facilities are continually being developed
to cater for a growing population.
Transport

Sport & Leisure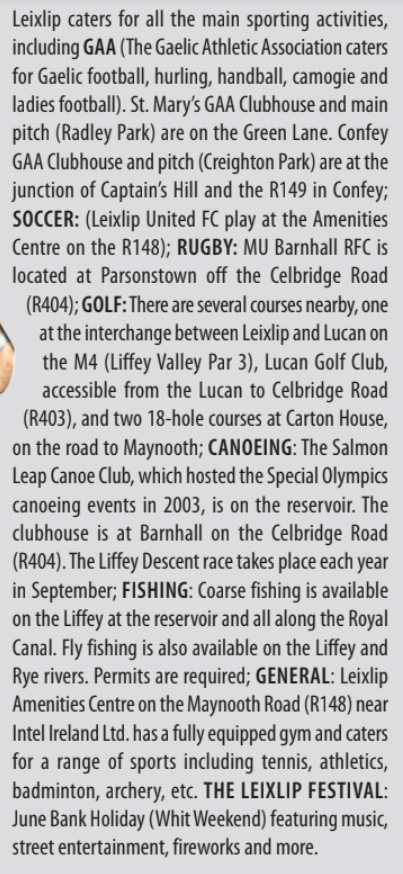 For more info see/download PDF with map below. This can be viewed on Laptop. If viewing on mobile you can hit the download button under the panel