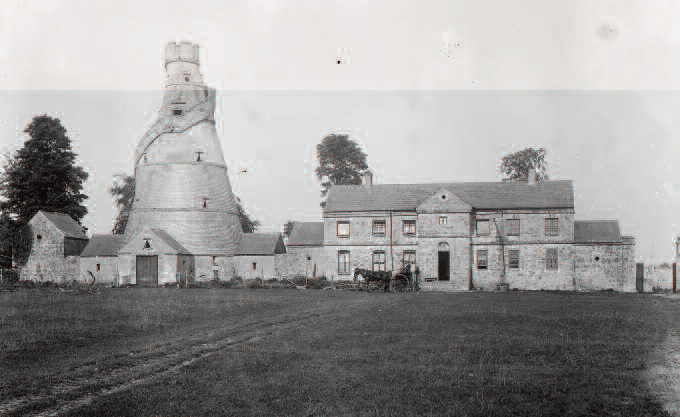 In 1740-41, famine spread across Europe following a great frost – the so-called 'Black Spring'. Rivers froze, and water-powered mills that ground grain into flour stopped working. This led to a flour scarcity, hoarding by wholesalers, exorbitant pricing and theft of grain. To avoid a repetition, the government decided to build large, secure grain stores.

The 'Wonderful Barn' was commissioned by local landlord, Katherine Conolly, widow of William Conolly, Speaker of the Irish House of Commons. It was built in 1743 by John Glin (of a long line of Dublin builders). Glin lived at the site of Glebe House, Main Street, Leixlip.

The five-storey, conical structure has five vaulted chambers. The walls are some 60-90 cm thick; the interior is limewashed English bond red brick, the exterior rendered cut-limestone. It was protected from the prevailing south-west rain by slates affixed to the exposed side. The Barn is 22.25 metres high and affords views over the surrounding countryside from the top, including nearby Castletown House. The battlemented viewing platform is reached by a spiral staircase up the outside of the structure. Two smaller copies of the Barn (dovecotes) within the site were used
to house pigeons which fed off spilt grain. They were slaughtered for their meat ('squab') in winter.

The Wonderful Barn is owned by Kildare County Council since 2005. The Council has invested in conservation and structural repairs to the brick and stone masonry, and extensive roof repairs to the wings.
Barn Facts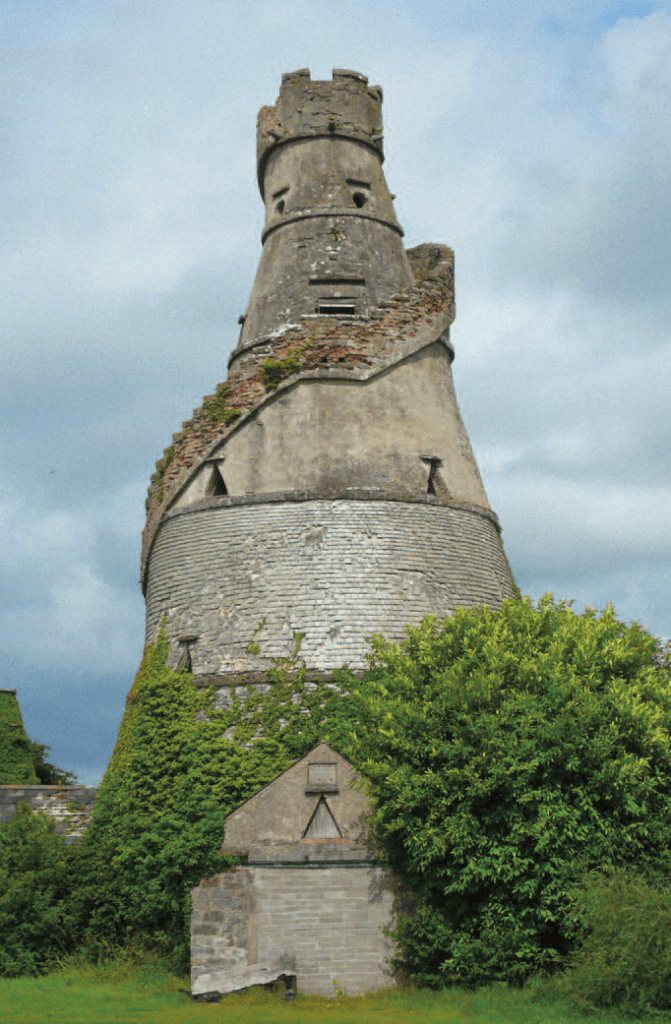 What is it? A free-standing, corkscrew-shaped grain store

Completed: 1743

Height: 22.25 metres

Interesting facts: There are 94 steps of cut limestone to the top. There is a
similar building in Churchtown, Dublin called The Bottle Tower, built in 1742, which was modelled on the Wonderful
Barn in Barnhall, Leixlip. This copy was also known as 'Hall's Barn', after Major Hall, who commissioned it.

Folly, or not?
What constitutes a folly? Typically, follies were built by wealthy landowners for largely decorative purposes in the form of towers or mock ruins. Although the Barn is often
referred to as a folly (and appears in many books as such), it did have a practical purpose, so perhaps history has not been kind to this fascinating example of the Irish built landscape. The nearby Conolly's Folly (or Obelisk) is a fine example of a folly. In many cases, Irish follies provided important work for locals in a time of famine and poverty.
An information panel poster can be seen at the Wonderful Barn Celbridge Rd entrance. by the car gate. The document above is the information panel poster in PDF format and it can be viewed on laptop. If viewing on mobile you can hit the download/view button and it will save it to your phone for viewing.